What to expect from Sefton Community Learning Service
At Sefton Community Learning Service we offer a wide variety of quality-assured courses to help learners develop new skills, grow in confidence and thrive. Our courses range from beginners with opportunities to progress to qualifications up to Level 2. Download your prospectus today!
We offer courses for residents within the Liverpool City Region who are 19+ years of age, our learners are guaranteed an enjoyable educational journey with us.
Based in a newly renovated building you are sure to be impressed with the the modern finish and building heritage, offering a FREE internet bar for the whole community.
Provision is funded by the Liverpool City Region. Head over to our Documents and Fees page for full course fee information.



Sefton Community Learning Service Mission:
To provide high-quality adult learning programmes to help people make positive changes, support personal development, and help communities to thrive. 
We aim to support and inspire people to progress to positive personal outcomes including:
 Improved:-
Confidence
Employability skills
English, maths, communication, digital skills
Support for children's learning
Health and wellbeing
Progression to further learning, training, volunteering, and employment.
To be responsive to local needs and to have a positive impact on social and economic wellbeing of individuals, families, and communities. 
To deliver high-quality teaching and learning with a culture of continuous improvement in all areas of the service. 
Our team
We are a highly experienced team who work tirelessly to keep bringing you a variety of new and exciting courses every term. You can contact our friendly Admin staff at the front of the house who will be happy to answer all of your queries.
Our Curriculum Managers are continually developing new learner programmes using learner, staff, and employer feedback to meet community needs.
Our fantastic tutors develop new and innovative course content to suit every learner. Each tutor holds immense subject knowledge and they deliver their courses with passion and enthusiasm wanting to make a significant difference in the personal development and skills growth of our learners.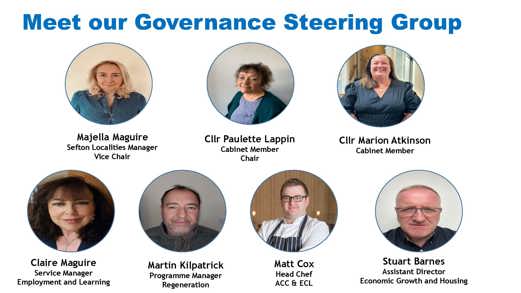 At Sefton Community Learning Service we have a supportive board of governors who play an active role in further developing the organisation. The governors are all volunteers from a variety of backgrounds who bring with them a broad range of experience, knowledge and skills. The board meet on a quarterly basis to discuss progress, challenges and opportunities and ultimately are responsible for making important decisions regarding the future of the service.
Come work for us!
How to find us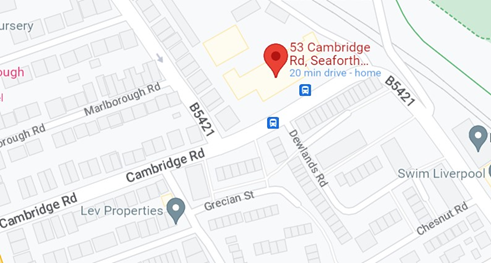 53 Cambridge Road, Seaforth, L21 1EZ
Click here to view the location on Google Maps
On-site, you can find Sefton Community Pantry CIC offering refreshments, snacks, and meals. 
We had the great pleasure of hosting the Waterloo Grammar School Old Boys Association celebration event on the 50th anniversary of the Grammar School's closure.
It was a fantastic turnout with over 100 visitors, of which there were over 60 ex-pupils who attended to reminisce and catch up with old friends.

Referral links
Sefton@Work   National Careers Service   Citizens Advice
Department for Work and Pensions