We have lots of projects and schemes coming up around transport and travel that we would like to ask you about.  It is important that we can get your views to help shape what we do. We would like to get the views of everyone who lives, works or visits Sefton.
Transport and travel is essential for our lives and for our local economy, but it also contributes to carbon emissions, and changing the way we move around will help us to meet local and national carbon reduction targets.  Walking and cycling is good for our wellbeing and our health so we want to make it easier for people to do so.  Our 2030 Vision for Sefton is a confident and connected borough. Here are some key parts of the vision that are important to your streets and roads:
The borough is accessible to everyone

There are many walking and cycling routes

Low pollution and better air quality

Sefton is recognised for its commitment to sustainability

We live healthy happy lives

We know our neighbours

We enjoy shopping on vibrant high streets
Our recent consultations have included:
Southport Walking and Cycling Route - Hesketh Park to the Plough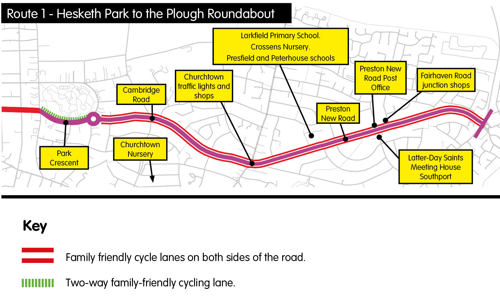 Southport Walking and Cycling Route - Birkdale to Ainsdale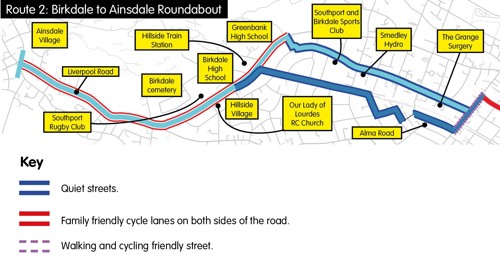 An information leaflet is available to download below:
The consultation for this has now closed.
Crosby Coastal Path - new and upgraded cycleway and footway

This scheme is designed to provide a new and upgraded cycling and walking route between Crosby Leisure Centre and Crosby Lakeside Adventure Centre. It will also link to the new cycling provision being delivered on Great Georges Road, and provide a link to Potters Barn Park and beyond to Rimrose Valley.  A section of the route between South Road and Great Georges Road will also be lit to improve accessibility and safety throughout the whole route.
The Crosby Coastal Path consultation is now closed. Thanks to everyone for your suggestions and feedback in relation to the route for the new cycleway and footway through Crosby Coastal Park. All comments and feedback will be reviewed by our designers and engineers as we move towards the detailed design and planning stages.
Please note the final route designs will be shown as part of the forthcoming planning application and will be available online over the next few months.  We will update our website once the planning application becomes live.
The scheme is being funded through the Liverpool City Region's European Union Sustainable Urban Development funds and is a key part of a wider programme across Sefton.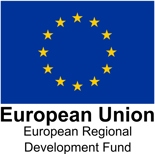 An information leaflet is available to download below:
The consultation has now closed.
Maritime Corridor Improvements
A public consultation was held on the Maritime Corridor Improvements scheme between Monday 1st March and Sunday 11th April 2021. The Maritime Corridor area reaches from Switch Island to Netherton Way (A5038), including the A59 Ormskirk Road and the A5036 Dunnings Bridge Road, linking Atlantic Park to the wider region and the Port of Liverpool. The proposed improvements involve the upgrade of  5 key junctions throughout the area;  as well as providing better facilities for walking and cycling. The key aim of the scheme is to improve the traffic conditions and make the area more accessible for all transport users.
The summary of the results of the consultation and the next steps for the project can be found on Your Sefton Your Streets here:
https://yourseftonyoursay.sefton.gov.uk/investment-programmes-and-infrastructure/your-sefton-your-streets-feedback/
With more information on what we are doing with the results here:
https://yourseftonyoursay.sefton.gov.uk/we_asked_you_said/
You can take part in any of our open consultations here:
https://yourseftonyoursay.sefton.gov.uk/yourstreets/