Active Workforce teamed up with Public Health and Parks & Greenspace, to set up 2 parkrun's in Sefton. These are FREE 5K runs every Saturday at 9am. To join in, you just need to register on the parkrun website where you will be issued a bar code. Simply take this bar code to whichever parkrun you want to go to, and they will let you know your time and position after the end of the race.
Crosby parkrun:
Starts by Crosby Leisure Centre
Mariners Road, Crosby, L23 6SX
Southport parkrun:
Starts at Hesketh Park
Park Crescent, Southport, PR9 9JN
Crosby parkrun - 3rd Birthday
Crosby parkrun recently celebrated its 3rd birthday. The parkrun was initially set up through Active Sefton, and continued by a team of volunteers, headed by Event Director Jan Mullin, who turn up every Saturday morning without fail to provide residents and tourists alike the opportunity to take part in the free 5K event at 9am. Crosby parkrun is one of 578 set up in the UK, with a second one in Sefton at Hesketh Park, Southport.
Jan Mullin, Crosby parkrun Event Director, has given up her time to commit herself every Saturday since it started:
"We have just gone from strength to strength over the 3 years and this week we saw over 200 people take part. Crosby parkrun has a great inclusive team of volunteers from all across the community including pensioners and young people still at school, there are a number of different roles which need to be covered each week and we would welcome anyone who would like to get involved, we can promise some good times and cake! We're so happy we can offer this opportunity for people, every week we experience so much positive feedback and hear so many positive stories. We like to think we create an approachable community down here at Crosby parkrun where everyone feels welcome."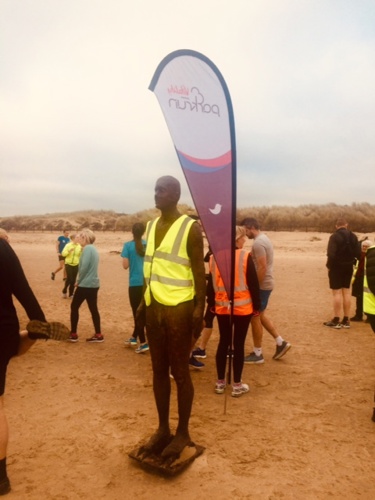 Join the team
If anyone would like to join the team of volunteers at Crosby parkrun or Southport parkrun, please email crosbyoffice@parkrun.com or southportoffice@parkrun.com
If you would like to take part in Crosby or Southport parkrun, register yourself on their website, get your barcode and just turn up: www.parkrun.org.uk
Coming soon to Sefton are 2 Junior parkruns in Formby and Bootle. If you would like to volunteer for either of these, please contact Lesley.neary@parkrun.com