The Mayor of Sefton, Cllr June Burns, is asking as many people as possible across the Borough to get behind the 2020 Christmas Toy Appeal.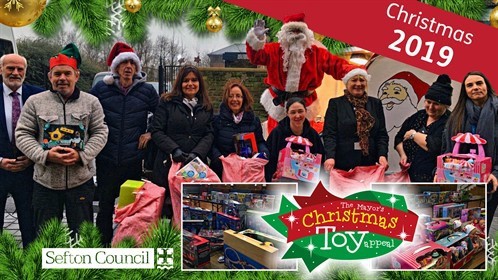 Each year thousands of toys, gifts and stocking fillers are lovingly donated by kind-hearted residents, Sefton Council staff, partners and community groups to put a smile on the faces of Sefton's children.
After a year quite like no other, there will be many families across the Borough who will receive gifts that will make all the difference and bring them some Christmas cheer.
Since launching the appeal in November, more than £1,200 has been donated via Sefton's Crowdfunding platform and hundreds of gifts have been delivered to Bootle Town Hall. It is the first time the Mayor's appeal has used crowdfunding for the annual gift event, and donations surpassed the target just 48 hours after it was launched.
The crowdfunding has now closed and volunteers from the Council will use the funds to buy gifts from local businesses to share with more than 500 families by Christmas Day.
New and unwrapped toys, gift vouchers, toiletries, pyjamas and stocking fillers for all ages, are still needed and welcomed as part of the appeal.
Donations of gift cards and toiletries are especially welcome for older children and teenagers.
Items can be donated in the following ways:
Purchased online and sent to the following delivery address:
Sefton Mayor's Christmas Toy Appeal, Town Hall, Oriel Road, Bootle L20 7AE
Dropped off at the in-store donation point at Asda Central 12 in Southport
Dropped off at libraries and leisure centres which re-opened on Wednesday 2nd December, opening hours may be varied so people should check before making a drop off
Volunteers from Sefton Council, following COVID guidelines, will then distribute all presents to children and young people, throughout the Borough on behalf of the Mayor.
People need to send their donations by Tuesday 22nd December 2020 in time to be sent out for Christmas Day.
For further information on the Mayor's Christmas Toy Appeal, please call or text 07837 863 075.