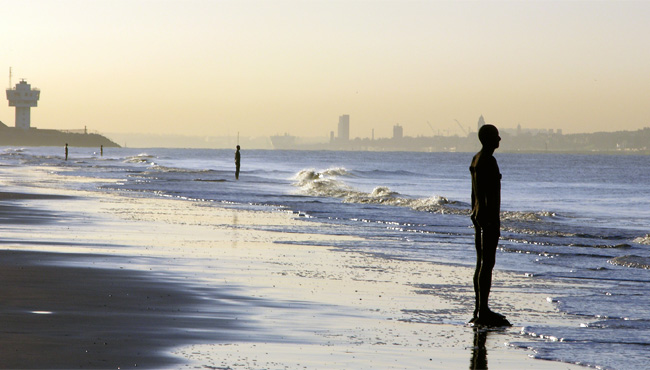 Another Place is an artwork by Antony Gormley. It is made up of 100 cast iron figures situated across an area of sandy beach over 3km long (approx 2 miles).
The Another Place figures - each weighing 650 kilos - are made from casts of the artist's own body and are shown at different stages of rising out of the sand, all of them looking out to sea, staring at the horizon in 'silent expectation.'
Antony Gormley says the installation is a poetic response to the individual and universal sentiments associated with emigration - sadness at leaving, but the hope of a new future in Another Place.
Since arriving in 2005, Another Place has attracted a huge amount of interest in the area with large numbers of people - including families and school parties - visiting the beach to see the statues. They have become known locally as 'The Iron Men' and sometimes 'The Gormleys.'

The artwork has generated extensive coverage in both the press and broadcast media and has become a world-renowned work of public art.

Another Place was previously displayed in Cruxhaven in Germany, Stavanger in Norway and De Panne in Belgium.
In November 2006, the statues were expected to move to New York but it was later decided that they would remain on Crosby beach on a permanent basis.
Rod Yeoman 1950- 2013
Instrumental in bringing Another Place to Crosby beach was Rod Yeoman, then director of the South Sefton Development Trust. Rod was proud to have made this contribution to his community. He is fondly remembered and missed by many.
---