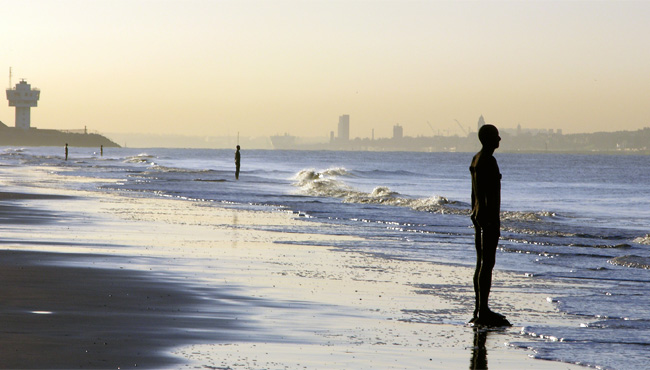 Another Place is an artwork by Antony Gormley. It is made up of 100 cast iron figures situated across an area of sandy beach over 3km long (approx 2 miles).
The Another Place figures - each weighing 650 kilos - are made from casts of the artist's own body and are shown at different stages of rising out of the sand, all of them looking out to sea, staring at the horizon in 'silent expectation.'
Antony Gormley says the installation is a poetic response to the individual and universal sentiments associated with emigration - sadness at leaving, but the hope of a new future in Another Place.
Since arriving in 2005, Another Place has attracted a huge amount of interest in the area with large numbers of people - including families and school parties - visiting the beach to see the statues. They have become known locally as 'The Iron Men' and sometimes 'The Gormleys.'

The artwork has generated extensive coverage in both the press and broadcast media and has become a world-renowned work of public art.

Another Place was previously displayed in Cruxhaven in Germany, Stavanger in Norway and De Panne in Belgium.
In November 2006, the statues were expected to move to New York but it was later decided that they would remain on Crosby beach on a permanent basis.
Rod Yeoman 1950- 2013
Instrumental in bringing Another Place to Crosby beach was Rod Yeoman, then director of the South Sefton Development Trust. Rod was proud to have made this contribution to his community. He is fondly remembered and missed by many.
---
There isn't a best time. The artwork can be viewed at all times and during all weathers. What time is best is very much open to the individual's interpretation. At certain times, however, the installation will be totally covered by the tide. More information about tides can be found on the tide times website.
As a rough guide, if there is a tide of around 9-10metres the artwork will be submerged for an hour or so either side of the high tide and access to the beach will not be possible. If the tide height is 7.0m most of the statues can be seen and at 4.0m or lower all of the statues can be seen.
Tide Times
Unable to display the list of documents - check that the macro points to a valid media folder
Official merchandise is available at Crosby Lakeside Adventure Centre and The Atkinson in Southport.
Yes, personal photographs are allowed and indeed encouraged. However, all intellectual property rights in the work are held by the artist and no images can be used for commercial gain/political campaigning or to promote any brand, product or cause.
All enquiries need to be addressed to Sefton Council's Communications department on 0345 140 0845.
Visitors should obey warning signs, Lifeguard, Coastguard and Ranger instructions, but generally it is safe to walk on the beach if staying close to the promenade. Visitors should not try to walk out to the furthest statues as there are areas of very soft sand and mud. Also, feeding birds could be disturbed.
No. If you propose to use the beach for anything other than a personal visit you must contact the Sefton Council's Coast and Countryside team on 0345 140 0845.
Another Place can be viewed from a promenade running next to the beach. The promenade is flat and well surfaced. It is free from motor traffic but open to cyclists. The beach is accessible by steps and ramps, but has areas of soft sand and mud.
Yes. Please do not leave any litter.
Another Place is permanent and there are no plans to move it.
The artwork was brought to the area by South Sefton Development Trust, an organisation set up by the South Sefton Partnership to continue its regeneration work in the area.
The project received support from Mersey Waterfront programme, the Northwest Regional Development Agency, the Mersey Docks and Harbour Company (Peel Ports), the Arts Council, and Sefton Council.
Contractors spent three weeks lifting the figures into place and driving them into the beach on metre-high foundation piles.
As part of the planning conditions for the statues to remain permanently on the beach, a number of statues were moved from their original, temporary position.
The statues are designed to weather and evolve over time, and are not cleaned.