Free SIM cards and mobile data available from Bootle Library
Sefton Libraries are working with Good Things Foundation to distribute free SIM cards and mobile data to local people facing digital exclusion. The National Databank scheme is supported by UK mobile networks (Vodafone, O2 and Three) and offers vital connections for anyone cut off from the basic daily activities most people take for granted, like contacting loved ones, accessing job interviews, finding essential health or other information online, and digitised public services.
If you're a Sefton resident and meet the eligibility criteria, you can collect a free sim card from Bootle library.
Anyone aged over 18 from a low-income household who qualifies in at least one of the following ways can apply:
you have no or insufficient access to the internet at home
you have no or insufficient access to the internet away from home
you can't afford your existing monthly contract or top-up
Simply pop into Bootle library and ask about the scheme, there are no forms or questionnaires to fill in.
Opening Hours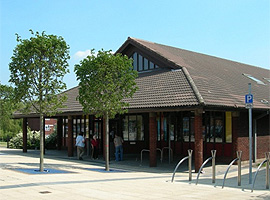 Monday 10am-5pm
Tuesday 10am-5pm
Wednesday 10am-5pm
Thursday 10am-5pm
Friday 10am-5pm
Saturday 10am-1pm
Activities 
Story & Rhymetime followed by Sensory Play
Mondays at 10:30am-12pm
Digital Drop In
Mondays 11am-1pm
True Crime Club
First Tuesday of the Month (Except January) at 2:00pm - 3:00pm
Chamomile Circle
Wednesdays at 10:30am-12pm
Yoga
Wednesday at 2:15pm-3:15pm
Shared Reading Group
Meet fortnightly on Fridays at 10:30am
International Cafe
Fridays at 11am-1pm
Lego & Board Games Club
Saturdays at 10:30am-12pm
Colour of Pomegranate
Fortnightly on Saturdays at 10am-1pm
At The Library Events
Please contact the library for more information
Features
Free WiFi access
Automatic entrance doors
The library is on one level with ground-floor access
Cycle rack
A portable hearing loop is available for use in the library
Quick-reference and local history sections
Lifelong learning opportunities, including adult and community learning classes
Community meeting room - available for hire
Self-service colour photocopier
Foodbank collection point
Contact
Bootle Library
220 Stanley Road
Bootle
L20 3EN
0151 934 5781
bootle.library@sefton.gov.uk