Volunteering
Thank You to all our Volunteers
We have been working very closely with Sefton CVS to create a volunteer network to help coordinate and share resources and we encourage all those who are able to help to get in touch with any support you can offer.
The response from Sefton's voluntary, community and faith sector to the Covid-19 pandemic has been fantastic and we encourage everyone to keep working together and with CVS and Sefton Council so we all can do our very best for those most in need.
Without your dedication and generosity, we would have struggled to maintain those vital services that matter so much at this difficult time. 
Cllr Trish Hardy, Cabinet Member for Communities and Housing, praised the fantastic work of our volunteers in a recent letter of thanks to all who have helped, and continue to help as part of Sefton's community response. You can read the letter in full here
Do you want to be a volunteer?
The Sefton COVID-19 Response Programme is a borough-wide volunteer programme operating across Sefton, to ensure systems are in place to care for people and communities during the COVID-19 outbreak. The programme is coordinated by Sefton Council for Voluntary Service ( Sefton CVS). Sefton CVS is a registered charity, working all year round to support a thriving voluntary, community, faith and social enterprise sector in Sefton, in partnership with Sefton Council.
The programme is designed so that people can sign-up to volunteer in a range of different roles, depending on availability and preference.  Volunteers can sign-up to offer practical support for vulnerable people, such as shopping deliveries, preparing meals or making check-in phone calls.  Alternatively there are informal volunteer roles, which involve helping within their own neighbourhood in more general ways.
If you would like to volunteer, fill out our registration form. 
Do you want to make a difference?
Not everyone can volunteer their time during this difficult situation, but there are other ways you can help! 
Donate to Sefton 4 Good 
Working in partnership with Sefton Council and Sefton CVS, Sefton 4 Good have launched a trusted online fundraising appeal. Donations will be used to support a range of local voluntary, community and faith sector organisations who are working tirelessly to help vulnerable residents across the borough.
This fundraising appeal will provide a safe and secure channel for those who wish to donate and support local initiatives in response to this crisis. This support will benefit our local foodbanks across Sefton who are continuing to provide vital support, as well as other groups providing befriending services and reducing social isolation and anxiety.
#ShowThemYouCare
People in Sefton are being asked to help cheer up residents of the Borough's care homes at this time.
Older people living at homes across the Borough are missing seeing their family and friends regularly while COVID-19 restrictions are in place. It is proving a particularly distressing time for some of the residents who are not seeing their loved ones.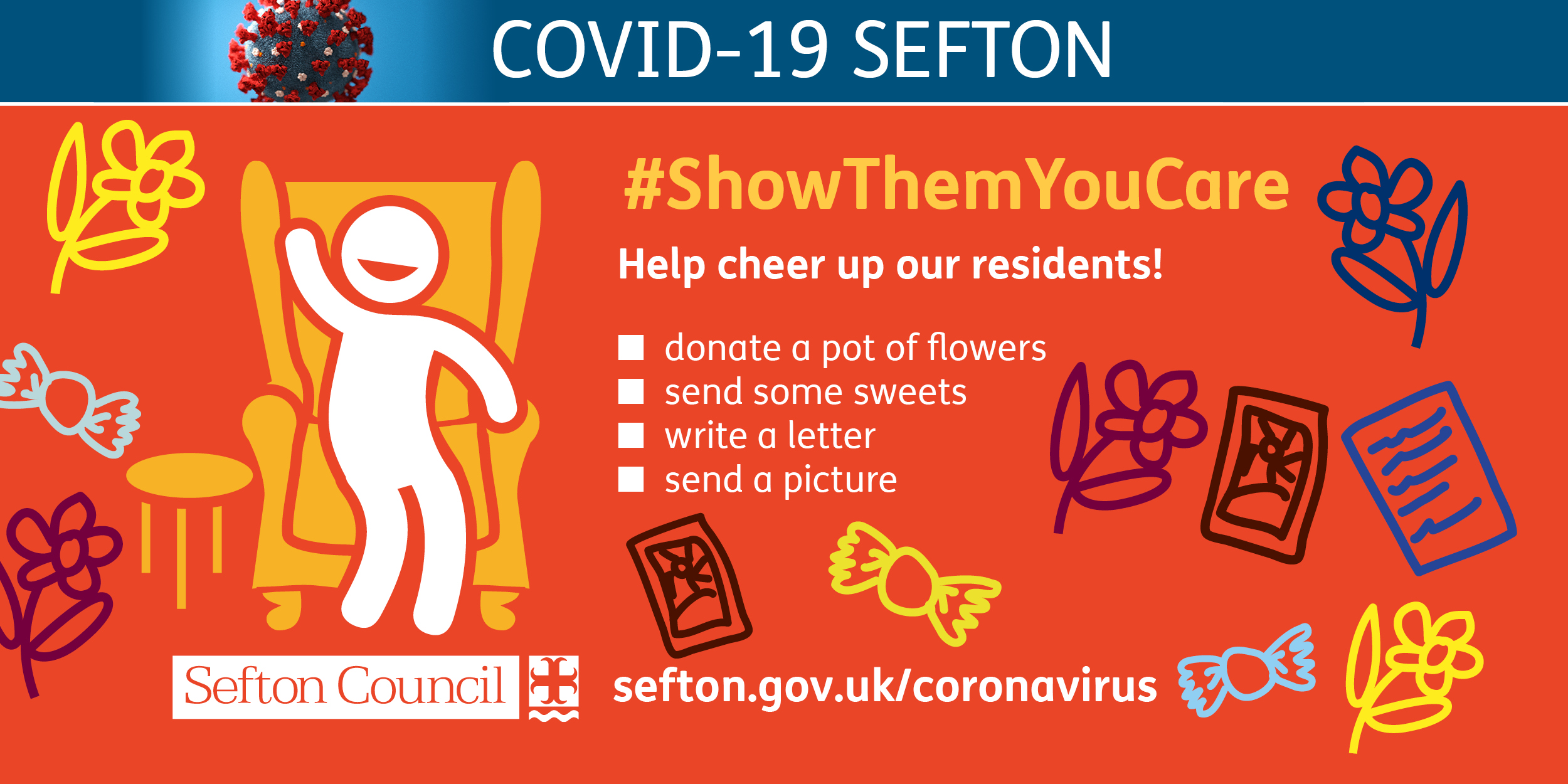 Through its new #ShowThemYouCare campaign, Sefton Council is asking local people to purchase items, such as packets of biscuits, boxes of cakes and sweets and flowers, plants and treats, and donate them to brighten up the day for the people living in local residential homes. Also, paintings drawings, poems and letters from local children and neighbours would really cheer up residents
Are you vulnerable or need help?
Many of our residents who need help during the coronavirus crisis are being supported by their family, friends or neighbours.
For those who don't have that support network in place, we want to make sure you know how to access this help.
You can get support by calling one of our team on 0345 140 0845.
They will ask you a few questions and your information will be shared with Sefton CVS (Community Volunteer Service) who are co-ordinating the support in the community.
Alternatively, you can complete our online form. The information provided will help us understand what type of support you require.
We can help you with things like:
Urgent Food delivery - We can put you in touch with a community group who can shop on your behalf. This does not generate or guarantee a supermarket delivery slot for you.
Local Food shop delivery information - We will send you a list of local shop and suppliers who can provide a food delivery to your doorstep.
General help with loneliness – A friendly call
Prescription collection
Help to get online
We will try to match your needs as far as possible and will be prioritising the help and support accordingly. We are currently aiming to respond to your request within three working days.
Our Contact Centre is now open: 
Monday to Friday 8am to 6pm
Saturday 9am to 6pm
Have you launched a community group to help your neighbours?
A number of community groups, businesses and neighbourhoods have set up groups and volunteer schemes to help vulnerable people and isolated residents who live in their area. We are currently collating a detailed log of all these groups and if you know of any, please email their details to info@volunteeringsefton.org.uk