NYAS Advocacy and Independent Visiting Service in Sefton
Who Are We?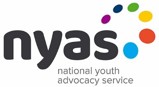 NYAS is a rights-based charity who provide advocacy and legal representation to children and vulnerable adults when important decisions are being made about them. Since 1979, we have been delivering services to support and empower vulnerable children and adults.
How Can We Help?
We are currently commissioned to provide support to the following children and young people:
Children in Need
have a Child Protection Plan
Children with Disabilities
Children in Care
Care Leavers up to the age of 25 years
Unaccompanied Asylum Seekers
Issue Based Advocacy
 Issue based advocacy is for young people who need support to express their wishes and feelings and uphold their rights.
We can support a variety of issues including education, placement issues and moves, complaints, review meetings or whenever the young person feels unhappy about a decision or action.
We aim to assist in the early resolution of potential difficulties and help children and young people to understand the process.
 Child Protection
Advocates can support young people to prepare and express their wishes and feelings for a child protection conference.
Advocates will attend and support the young people on the day if requested and can submit a report to the Chair on behalf of the child or young person.
If advocacy is required, we need a minimum of five days' notice prior to conference.
Independent Visiting
The Children Act 1989 says that a local authority must appoint an independent visitor (IV) for any child they are looking after who meets the following criteria:
If they have been estranged from their family for 12 months or more
If they have little or no contact with their birth family
If it is in their best interests to have one
IV's provide children in care with a trusted adult to visit and befriend them. They are trained volunteers carefully matched to offer friendship and support.
How to Refer
Referrals can be made with consent of children and young people securely via our website NYAS Portal or ringing our Helpline on 0808 808 1001