Green Sefton
Green Sefton is our service responsible for helping to keep Sefton a clean, green and beautiful borough, working with partners and volunteers to manage Sefton's coast, countryside, parks and greenspaces. 
With lots of opportunities for volunteers to get involved, Green Sefton carry out vital land management, maintenance, as well as tackling coastal erosion, flooding and risk management. 
Avian Flu
Please find information here on the latest outbreak.
Green Sefton Business Supporter Opportunities
We welcome the support of any business in Sefton and have a whole host of ways that you could play a role in our work.
You could give some of your time, or that of your team, or help financially to support the work of others.
No matter how big or small your contribution, it will make a real difference. Find out more about the ways your business could get involved on our dedicated webpage.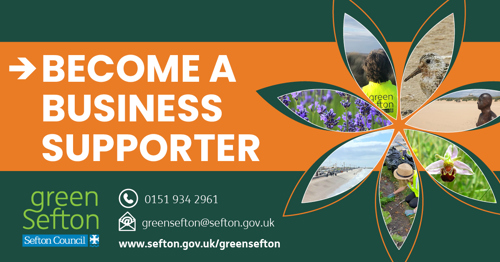 Annual Reporting from Green Sefton
2022
The 2022 Green Sefton annual review sets out the successes and challenges of the last year, and looks ahead to 2023 and beyond.
Take a look at some of our highlights:
Service Manager Mark Shaw has narrated a longer-form presentation, which was reported on at the Overview and Scrutiny (Regeneration and Skills) Committee on 8th November 2022.
The report can be accessed in full on our meetings webpage.
2021
2020
Service Manger Mark Shaw narrates a presentation on the work undertaken by Green Sefton throughout 2020. 
Sefton 2030 Vision
Sefton Council's Green Sefton Service has an aspiration to generate its own additional funds to increase the quality of its service for Sefton communities, as well as looking to reduce the reliance on Council revenue by 2030 and to overall support the Sefton 2030 Vision.
This narrated presentation provides an update on progress with existing and future projects.